North American FJ Fury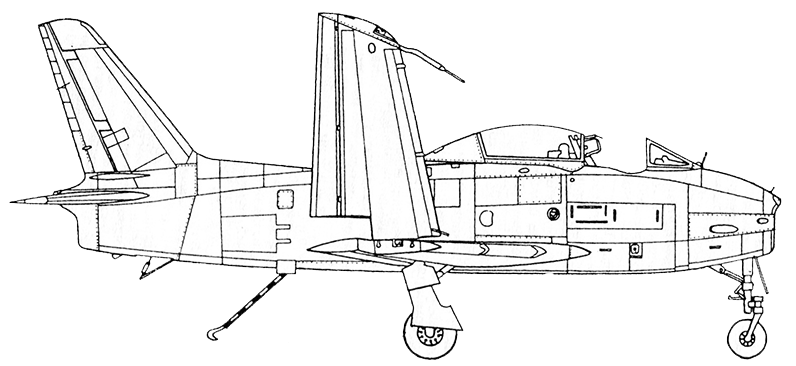 North American FJ-1 Fury, the original straight-winged jet fighter model, 31 produced. It formed the basis for the development of the swept-wing F-86 Sabre. The FJ-1 was powered by the Allison J35-A-2. The FJ-2 and FJ-3 Fury are a series of swept-wing carrier-capable fighters for the United States Navy and Marine Corps. The FJ-2 resulted from an effort to navalize the United States Air Force's F-86 Sabre. These aircraft featured folding wings, and a longer nose landing strut designed to increase angle of attack upon launch and to accommodate a longer oleo to absorb the shock of hard landings on an aircraft carrier deck.
Although sharing a U.S. Navy designation with its distant predecessor, the straight-winged North American FJ-1 Fury, the FJ-2/-3 were completely different aircraft. (The later FJ-4 Fury was again, a complete structural redesign of the FJ-3). The FJ-2 was one of the aircraft used to evaluate the first steam catapult on a US Navy aircraft-carrier.
The FJ-4 Fury shared its general layout and engine with the earlier FJ-3, but featured an entirely new wing design and was a vastly different design in its final embodiment.
Sorted by model then Serial Number
Research assistance provided by
Joe Baugher
John Benton
Tom Bispo
Tjalling Boelman
Luis Bonanni
Chris Brame
Donny Chan
Joseph Cicero
Mike Davis
James Everts
John Irvin
Ilya Kurenkov
Ron Lewis
K.Y. Lun
John McKenna
Philip Moss
Sid Nanson
Rob Norris
Brad P.
Ron Picciani
Jay Powelson
Raymond Sinwell
James E. Smith
Bill Stein
Johan Visschedijk
Francis Warren